Danza con il robot.
1126
Huang Yi's Robot Dance Partner: KUKA
Taiwanese choreographer, dancer and inventor Huang Yi  and KUKA ROBOT.
"KUKA is designed to handle repetitive factory tasks, like polishing iPhones. According to regulation, when the robot is moving, humans cannot enter the area of its action. When I approached the company to ask for a KUKA, they said they would but on the condition that I can find a way around their regulations. They told me if I could find a way, they would lend me a KUKA. After a long programming process, I demonstrated that I had in fact figured out how to enter the area of action safely. And they gave me a KUKA"
Kubic's Cube
Performance / Installation epilogue to the trilogy De Humani Corporis Fabrica by VENTURA (2002-2006)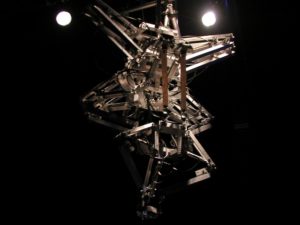 The Installation (3-4 hours)
The robot "Kubic" hangs in a dark space surrounded by sounds of a jungle. The public moves freely in space and regards the robot from different perspectives. A motion tracking software registers the whereabouts of the public and triggers the robot to react to the approach and nearness of the spectators. An ambivalence takes place between the sounds of organic life in a jungle and a machine and the public's perception of "Kubic" fluctuates between a kinetic sculpture or a living organism.
The performance (20 mins.)
The choreographer Pablo Ventura operates the robot 'live' to industrial sounds especially composed for the piece by Francisco López, creating differentiated mechanistic atmospheres that invite the viewer to discover Kubic's Cube from different perspectives.
At the Ars Electronica Festival's Big Concert Night on September 9, 2018, Silke Grabinger and two members of her SILK Fluegge troupe will dance to Symphonie Fantastique performed by the Bruckner Orchestra in the Gleishalle of POSTCITY Linz.
The Berlioz Project at the Big Concert Night (Credit: vog.photo)
Ein Tanz von Mensch und Maschine: Silke Grabinger zeigt mit SILK Fluegge bei der Großen Konzertnacht am Ars Electronica Festival 2018: ERROR – the Art of Imperfection, wie ein Roboter zum Tänzer wird. Mehr erfahren Sie im Interview mit Silke Grabinger: https://ars.electronica.art/aeblog/de/2018/09/03/silk-fluegge/

Pubblicato da Ars Electronica su Lunedì 3 settembre 2018
3D Projection mapping su oggetti in movimenti mossi da robot KUKA
BOX
https://creators.vice.com/en_us/article/vvy4wy/projection-mapping-and-robots-combine-in-bot–dollys-new-film
Dietro le quinte…
KUKA is one of the biggest robot manufacturing companies in the world[5]. The
company was founded in 1898, and soon expanded into welding and welding
solutions. After the rise of the Unimate, the first industrial robot, KUKA saw
an opportunity in industrial manipulators. And by 1971 they delivered Europe's
first welding transfer line with robots to Volkswagen AG. In 1973 KUKA made
the first robot with six electromechanically driven axes. In 1996 they released
the KUKA Robot Controller (KRC) 1 controller, which was the first PC based
controller running both Windows and a real-time OS
SEER: Simulative Emotional Expression Robot
"SEER" is a compact humanoid robot developed as results of deep research on gaze and human facial expression.
The robot is able to focus the gaze directions on a certain point, without being fooled by the movement of the neck. As a result, the robot seems as if it has its own intentions in following and paying attention to its surrounding people and environment. Using a camera censor, whilst tracking eyes it has interactive gaze.
In addition, by drawing the curve of the eyebrow using soft elastic wire, I were able to enrich the expression of the robot as if it lives with emotions. With the facial motion tracking and mirroring ability, it gives us connecting impressions.
The purpose of my research and development is not to answer the philosophical theme "Will a robot (or computer) obtain a mind or emotions like mankind", but to portray the sense of conscious emotion such as a human can produce. I think it is possible to represent human-like communications by constructing an adequate interaction system between facial sensing and expressions. If we understand and identify with robots which can learn the functions and usages of emotional expressions from interactions with people, get a good command of them accordingly with situations and context, could we distinguish them from the existence of those with real minds and emotions?
As the first step to realize this, I thought two conditions were necessary: the eyes to detect the appearance of another's face, and the face to be made appealing to the viewer's eye.
SEE: https://brage.bibsys.no/xmlui/bitstream/handle/11250/2490915/16482_FULLTEXT.pdf?sequence=1&isAllowed=y