Exhibition and Symposium VIRAL THEATRES_ pandemic past/hybrid futures
1534
Viral Theatres: Pandemic Past / Hybrid Futures investigates how theatre and performance are transforming in terms of infrastructures, aesthetics, and work processes due to the pandemic and what the future of theatre might look like. The opening symposium will have a range of panels and dialogues on these topics from theatre makers, digital artists and scholars  alike and we were hoping this might be of interest for you. We will be streaming the sessions over the three days; if you are interested in attending online (or, if you happen to be in Berlin, in person) ,we would be delighted. Please find registration and program links below. With kind regards -Ramona and Christian
Viral Theatres: Pandemic Past /Hybrid Futures
Exhibition Opening & Symposium
April 28 – 30, 2022, Tieranatomisches Theater BerlinHow hybrid is the future of theatre? In what ways has the pandemic changed how we work in theatre and gather in it as a public space?
We would like to invite you to our Exhibition Opening & Symposium Viral Theatres: Pandemic Past/Hybrid Futures (April 28 – 30, 2022) as we explore these questions. In three days of events we will take stock of how pandemic time has moved from state of exception to new normality between viral outbreak and containment and what that means for theatrical production.
The event is a cooperation of the Research Project "Viral Theatres" (a collaboration of the Free University, the Humboldt University and Bard College Berlin) with the Research Project "Extended Audiences" at the EXC2020 "Temporal Communities," the metalab(a)Harvard, the Harvard University Mahindra Humanities Centers, and the Open Society University Networks. The Project "Viral Theatres" is funded by the VolkswagenFoundation and led by Ramona Mosse, Janina Janke, Christian Stein and Nina Tecklenburg.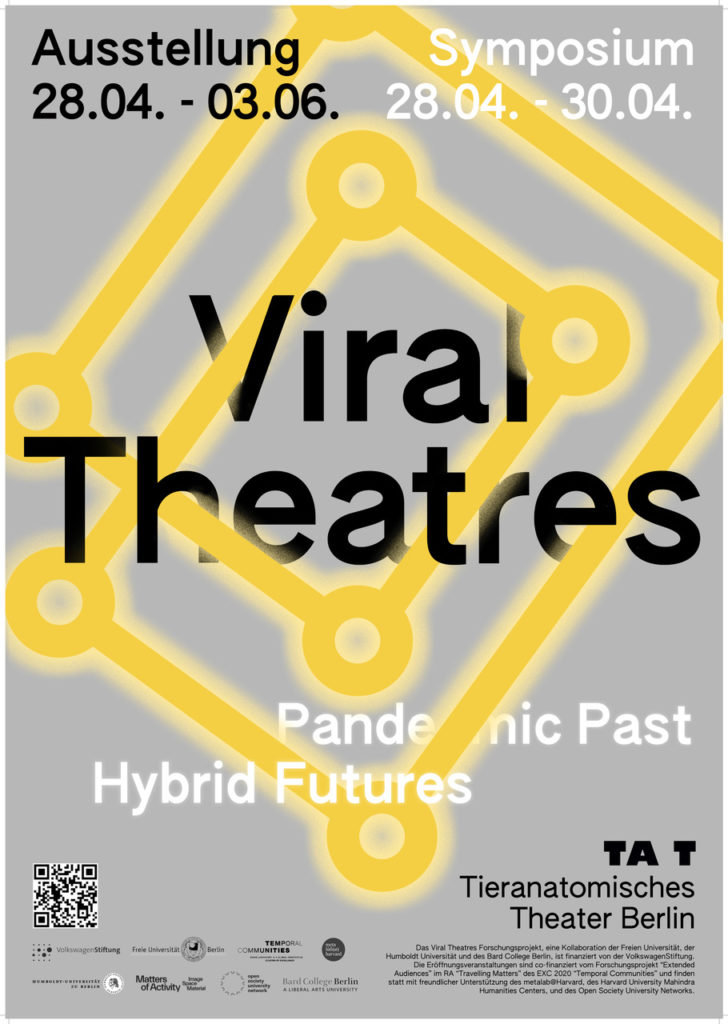 In our exhibition, our artistic research project Viral Theatres offers a look into the Living Archive we have been gathering to document new forms and contents of pandemic theatre making and audience experience via interviews, rehearsal shadowing, video documentation and digital interactions. Included are glimpses into the pandemic theatre work of the Junges DT at the Deutsches Theater Berlin, the Berliner Ensemble, the Komische Oper, and the HAU Hebbel-am-Ufer as well as partner project such as the FutureStage manifesto by metalab@Harvard, and a set of theatre letters from around the world, co-curated by nachtkritik.de and the International Research Center for Interweaving Performance Cultures at the Free University Berlin.
The symposium consists of workshops, roundtable discussions and a VR performance; in it, we bring together international theatre practitioners and scholars to discuss aesthetics, infrastructures, and hybrid as well as digital artistic practices. Among the participants are Anna Krauß (HAU Hebbel-am-Ufer), Rainer Simon (Komische Oper Berlin), Sarah Ellis (Royal Shakespeare Company), Magda Romanska (metaLab@Harvard), Christian Rakow (nachtkritik.de), Fintan Walsh (Birkbeck) and the two performance collectives Turbo Pascal und punktlive. In addition, the independent performance group Interrobang will be showing Deep Godot, a one-to-one performance with an AI that explores the ambivalences of artificial intelligence. The performance collective Fevered Sleep will present their project This Grief Thing.
The symposium & opening takes place from April 28-30, 2022 at the Tieranatomisches Theater, the exhibition itself runs until June 3, 2022. You can register via Eventbrite here to attend in-person or on Zoom; you also can find a detailed program here.
We look forward to welcoming you to Viral Theatres either in person or digitally via our Zoom stream.