Legacy of Svoboda-The polyvision
1202
Dal sito della PERNI SCHEDA SVOBODA
"Svoboda è stato autore di alcuni rivoluzionari allestimenti espositivi.
Celebre il Polyécran all'Expo 1958 di Bruxelles (nella foto), proiezione multipla su otto schermi di forma quadrata e trapezoidale su sfondo nero.
Una messinscena che ha avviato un filone di rappresentazioni simili e che proprio per questo oggi non stupirebbe nessuno, ma che allora destò scalpore per la novità e l'efficacia, richiedendo la soluzione di problemi tecnici di considerevole complessità, in un'epoca in cui le soluzioni computerizzate di proiezione e sincronia dell'audio non erano nemmeno ipotizzate.
L'esperimento fu ripetuto, in modo più sofisticato, all'Expo 1967 di Montréal, dove gli schermi diventarono oggetti tridimensionali di varie forme (cubi, sfere).
Le tecniche di proiezione e le loro interazioni in scena furono per Svoboda un'ulteriore occasione di sperimentazione".
«Mi sono sempre domandato perché bisognasse proiettare solo su una superficie compatta, e non su fasci di linee mobili, o su frammenti di superfici, o su aste.»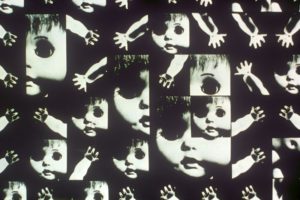 Polyekran
Polyekran (literally, "multi-screen") was conceived by Josef Svoboda in collaboration with Emil Radok and, like Laterna Magika, was presented at the EXPO 58 in Brussels. It was a system of 8 projection screens, carefully positioned within a black space, onto which films and photographs were projected with a musical score, forming an audio-visual composition without live performers.
Polyvision
Polyvision was created for the 1967 EXPO in Montreal. It was a spatial installation comprising three-dimensional mobile objects onto which slides and film images were projected with music, forming different audio-visual compositions.
http://www.ubu.com/film/leger_ballet.html