3D Water Matrix (Takatani+Partos)
470
3D WATER MATRIX
ST\LL – Shiro Takatani (Japan)
The Sorcerer's Apprentice – Christian Partos (Sweden)
Forthcoming exhibitions:
• 21 July – 11 September 2016: ZKM Karlsruhe (Germany),
as part of Digital Water Games exhibition (curator: Peter Weibel)
• 7 October – 27 November 2016: La Pelanda – MACRO Testaccio / Romaeuropa, Rome (Italy),
as part of Digitalife 7 exhibition (curator: Richard Castelli)
Composed of 900 computer-controlled electrovalves, the 3D WATER MATRIX is an interface to produce animated and three-dimensional liquid artworks. Thanks to this robotic machine, Christian Partos becomes a water sculptor and Shiro Takatani, a filmmaker, who creates animations using water drops defying gravity, instead of pixels.
The 3D WATER MATRIX received the Merit CODAawards Winner 2015 in the category "institutional", after its first presentation at the Cité des sciences et de l'industrie in Paris, as part of "Robotic Art" exhibition in 2014/2015.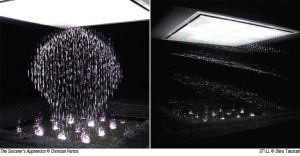 Jean Michel Bruyere / LFKs (FR) – Du Zhenjun (CN/FR) – Dumb Type (JP)
Granular Synthesis (AT) – Kurt Hentschlager (AT/US) – Ryoji Ikeda (JP)
Ulf Langheinrich (DE/AT) – Robert Lepage / Ex Machina (CA)
Ryuichi Sakamoto + Shiro Takatani (JP)
Shiro Takatani (JP) – Saburo Teshigawara / Karas (JP)
Richard Castelli : Directeur / Director – rc@epidemic.net
Florence Berthaud : Coordination & communication – fb@epidemic.net
Chara Skiadelli : Spectacles & expositions / Performances & exhibitions – production@epidemic.net
Claire Dugot : Administration – administration@epidemic.net
http://www.epidemic.net
http://www.youtube.com/EpidemicVideo
http://www.facebook.com/epidemic.production
15 – 15bis Allée Massenet 93270 Sevran France
Tel: 33 (0)1 4383 4953
Fax 33 (0)1 4385 6057