Festival of psychodrama, Krušče (Slovenia) AUG 21st – AUG 25Th 2018
1048
Dear Friends,

We're preparing a five-days summer encounter this year in Krušče, a little festival of psychodrama focused on creativity. We'll explore the relation between (inter)personal and artistic processes. We're expecting guests from different countries who will share their experiences.

Sue Daniel will lead a morning workshop every day. Sue is an internationally acclaimed psychodrama psychotherapist, trainer and supervisor, one of the pioneers of Australian psychodrama, with more then 35 years of professional experience, directing workshops around the whole world, who is returning to Krušče for the fifth time to direct a five-days workshop for beginners and experienced psychodramatists and psychotherapists.

Beside her we'll have guests with afternoon workshops:

Psychiatrist Vladimir Milošević, renowned and experienced psychodrama psychotherapist, educator and supervisor, one of the founding members of Institute for psychodrama in Belgrade, who regularly and successfully collaborates in a wide international context and has rich experiences in collaboration with artists. He has already directed numerous well-received workshops also in Krušče.

Director, psychologist and psychodrama psychotherapist Irena Ristić, professor of psychology of art at Faculty of dramatic arts in Belgrade, one of the few experts in this field, who works with success internationally both as a scientist and as an artist.

Playwright, dramaturge and psychodrama psychotherapist Lada Kaštelan, professor of dramaturgy at Academy of dramatic arts in Zagreb, translator of plays from Old Greek, author of screenplays and awarded theatre plays, who was educated in integrative psychotherapy as well as in psychodrama, and has applied its techniques in the work with students of playwriting.

Director and psychodrama psychotherapist Tomi Janežič, professor of theatre directing at Academy of Theatre, Radio, Film and Television in Ljubljana and an internationally recognized expert in the field of acting, who has for many years explored application of psychodrama techniques in artistic and art-pedagogical processes.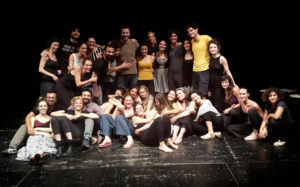 There will be talks, films, performances, concerts, an exhibition etc. in late afternoons and evenings in collaboration with other guests.
There will be the premiére of the film-documentary by Anna Maria Monteverdi (University of Milano) about Tomi Janezic: "La cura del teatro" (here the trailer: https://www.youtube.com/watch?v=S-FWnwBS_Hw
We'll let you know a precise program with topics of the day and detailed activities.
You don't need any experience in psychodrama to participate.
Fee:
–      Students, psychodrama trainees, member of the psychodrama group, artists freelancers, retirees, friends of Krušče: 320 eur (5 days), 290 eur (4 days), 240 eur (3 days), 180 eur (2 days), 100 eur (one day)
–      Others: 390 eur (5 days), 340 eur (4 days), 280 eur (3 days), 210 eur (2 days), 120 eur (1 day)
It will be possible to sleep in Krušče at the artistic residence house for a limited number of people. Feel free to ask for more info.
It will be also possible to use tents for a limited number of people in the frame of the festival. Feel free to ask for more info.
Info and registration: tomi.janezic@guest.arnes.si
DRUŠTVO STUDIO ZA RAZISKAVO UMETNOSTI IGRE
DRUŠTVO ZA UMETNIŠKO RAZISKAVO, KREACIJO, REZIDENCO IN EDUKACIJO KRUŠČE
ASSOCIATION STUDIO FOR RESEARCH ON THE ART OF ACTING
SLOVENIJA / EU
We like to suggest a very good website for visiting SLOVENIA  with100 Best Things to do in Slovenia by Jen Miller. 
PSYCHODRAMA
Psychodrama is a worldwide well-known and established action group psychotherapeutic method, developed by Jacob Levy Moreno.
The basic characteristic of psychodrama is the stage enactment of the inner world and life situations of the participants.
Members of the group can explore their experience of the present, the past and the vision of the future, situations that occurred (or could had, but did not), spoken and unspoken thoughts and feelings, desires, fantasies, dreams. They can confront/encounter people from the past, resolve and complete relations, discover their own limitations and potentials, meet with their emotions and learn how to express themselves freely.
Studio for Research on the Art of Acting works as an institute for cultural activities – since 2018 also an association based in Krušče -devoted to artistic, educational, research, and residency activities in the field of acting. Since 1996 Studio has realized numerous international projects (theatre co-productions, research and educational programs, artistic exchanges and residencies) and hosted a number of distinguished acting teachers, experts in psychodrama and artists from all over the world. Studio has most of its activities at the work-center in Krušče, a small village near Cerknica. In the course of last ten years since the beginning of the estate renovation, Krušče hosted internationally acclaimed artists and experts from more than twenty countries in the field of performing arts, film, music, fine arts, and literature, beside that importance is given also to the research and educational activities in psychodrama. Following its own particular way of dealing with the question of how to organize, finance, distribute and exchange creativity and art in the current modernity, Krušče is becoming recognized and valued as an important space for artistic investigation and reflection in Slovenia as well as in the wider international space.