Digital performance: bibliography
847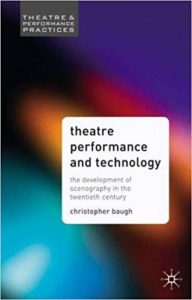 Theatre Performance and Technology: The Development of Scenography in the Twentieth Century (Theatre and Performance Practices) 
Paperback

 

– 19 Sep 2005 

by 
Throughout history, all great theatre cultures have used technology as an important part of performance: as a means to shift and change scenic appearance, and as visual rhetoric, spectacle and show. Revolutionary scientific thinking in the twentieth century, alongside the technology to use electric light in performance, served to underpin the ideas of Appia, Craig, Meyerhold, Terence Gray, Caspar Neher and Josef Svoboda. Distinctive though their ideas remain, they were unified in their firm belief that new forms of performance would only be achievable through a detailed and close study of artistic resources and technologies.
Their practices and understandings have served both to significantly expand and to create distinctive new connections and possibilities between technology, scenography and performance. In this stimulating survey, Christopher Baugh explores the ways in which development and change in technology have been reflected in scenography, and considers how change in scenographic identity has impacted upon the place and meaning of performance.

Theatre and the Digital Paperback – 2 Oct 2014
This question opens up a rich seam of provocative and original thinking about the uses of new media in theatre, about new forms of cultural practice and artistic innovation, and about the widening purposes of the theatre's cultural project in a changing digital world. Through detailed case-studies on the work of key international theatre companies such as the Elevator Repair Service and The Mission Business, Bill Blake explores how the digital is providing new scope for how we think about the theatre, as well as how the theatre in turn is challenging how we might relate to the digital.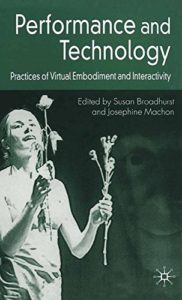 Performance and Technology: Practices of Virtual Embodiment and Interactivity Paperback – 13 Oct 2006
Staging the Screen: The Use of Film and Video in Theatre (Theatre and Performance Practices) Paperback – 19 Nov 2007
Immersive Theatres: Intimacy and Immediacy in Contemporary Performance Paperback – 31 May 2013