Robert Lepage and the New York MET Opera 2011-2013 (Ring Cycle)
673
Lepage's Ring Cycle proved to be the most technically advanced production the Met has embarked upon. Lepage and Met director Peter Gelb are on the record as having tried to imagine the Ring the way Wagner would have staged it if he had access to twenty-first century technology.Video projection and the use of a very unique set required true theatrical innovation and were anything but traditional.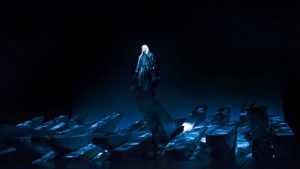 Das Rheingold introduced a high-tech set that rotates, bends and transforms into different shapes — such as a river or a spiral staircase. "It is also a projection screen", says Lepage. "Whatever configuration it takes, no matter how complicated, it can receive projection and transform itself into all sorts of things. And, of course, the story of the Ring is all about transformation."
Solutions
The set of 24 swivelling beams formed a myriad of different shapes which, with the aid of complex large scale video projections, created stunning scenic images. The set and Realisations' projections were used for the entire cycle transforming from walls, into a ceiling, a forest, cliffs and mountain ranges, and even the surface or the bottom of a river through the use of our digital animation and visual effects that generated the simulated 3D imagery.
Though unusual for a Wagner opera, the audience was so enthusiastic about the use of the set and projections during the ride of the Valkyries that it could not restrain itself and started applauding at every performance.
Credits: video: Réalisations, Joël Proulx Bouffard / music: Tab and Anitek (source: freemusicarchive.org, CC License)
Tools Used
Director Robert Lepage chose Realisations to create and integrate 3D interactive effects with the scenography of his production for the Wagner tetralogy.
Realisations combined our video projections and our partner's Maginaire's virtual cameras to allow us to project computer-generated images on the stage and décor, creating the illusion of 3D holograms.
The lack of precision in the human eye for seeing real volumetric images created these illusions triggered by the artists' movement and voices. Opera patrons did not have to wear special glasses since we were able to develop a new technology that allowed projected 3D images on stage to be seen without special eyewear.